Content and photography by Kaytee Lucherini, Kaytee Design Co.
About a year ago I discovered one of my now favorite furniture brands. It was at High Point market in 2018, I visited the Universal Furniture showroom for the first time. As I walked into the showroom it felt like a Restoration Hardware store, the lights were dim, fashion show style music was playing in the background, and all of the furniture was stunning. I walked through each room touching the fabrics, opening up the dovetail jointed drawers, and siting on plush chairs. If you have ever been to High Point Market, then I really want to emphasize me sitting on the plush chairs. My feet were dead by the time I made it to Universal's showroom. Next year Universal will be my first stop. I was amazed at the range of styles and quality of the furniture. Universal has traditional, modern, and coastal furniture lines all at unbelievable prices. I now source Universal on most of my projects because I trust the quality of furniture and the pricing is unbeatable.
For my own bedroom I have pieces from the Spaces collection, which is a century inspired line. After having furniture from Universal personally, I want to share some of the details that make it one of my favorite furniture brands. All of the drawers are dovetail joints. My dresser came with a soft padded insert for my jewelry that rests inside the top drawer. The bottom two drawers of the dresser are made out of cedar, and every drawer is spacious enough for all of my clothes. My nightstand has a hidden compartment with outlets and USB ports so I can hide all of those messy cords.
The best thing truly is the quality of Universal Furniture. I have already moved twice since getting my furniture. It is such a pain to have to assemble and dissemble crappy furniture. I have stripped screws, things don't fit correctly, frames break and fabric tears, and it takes like hours to figure out how everything goes together. I did not have a single issue assembling or dissembling my bed each time we have moved. It was the biggest relief to not have to spend hours trying to put your furniture back together after a big move.
I genuinely love Universal's furniture and would not write long blog post about it if I didn't stand behind their products 100%. Every designer should have Universal on their shortlist of quality, affordable furniture.
MOOD BOARDS FEATURING UNIVERSAL FURNITURE
The new Nina Magon collection for Universal Furniture is amazingggg. I used a lot of the collection in one of my recent projects. Below is a mood board featuring a bed, nightstand, and dresser. Isn't is stunning?!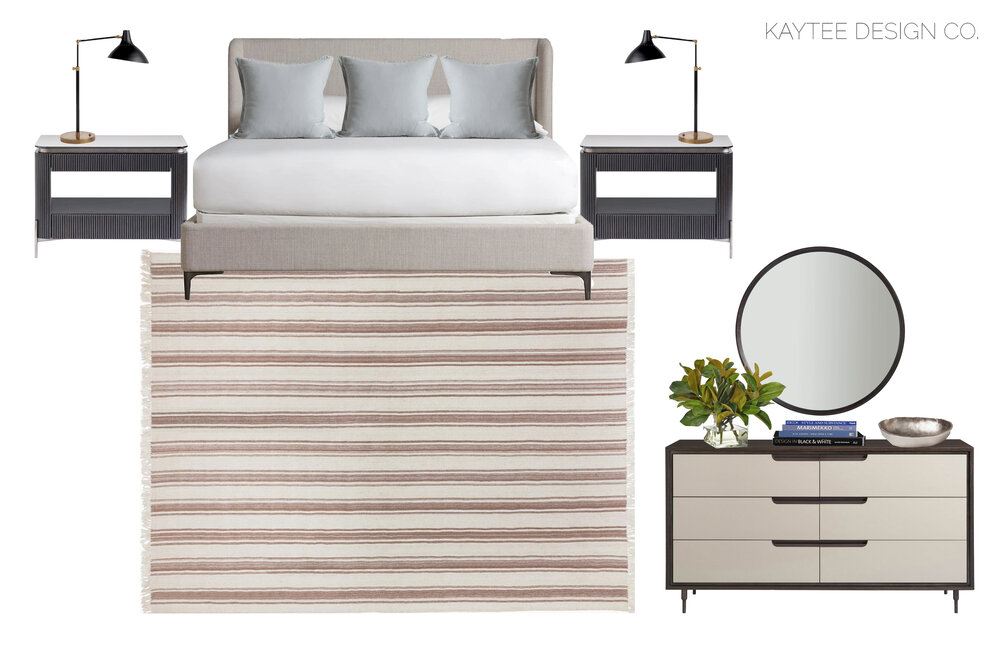 I source from Universal Furniture often because of the wide range of styles they have. For this project, the wife's style was more traditional, while the husband's style was more modern. Universal has a bit of everything from modern, traditional, to even coastal. This blended bedroom using both modern and traditional pieces fit both the husband and wife's style.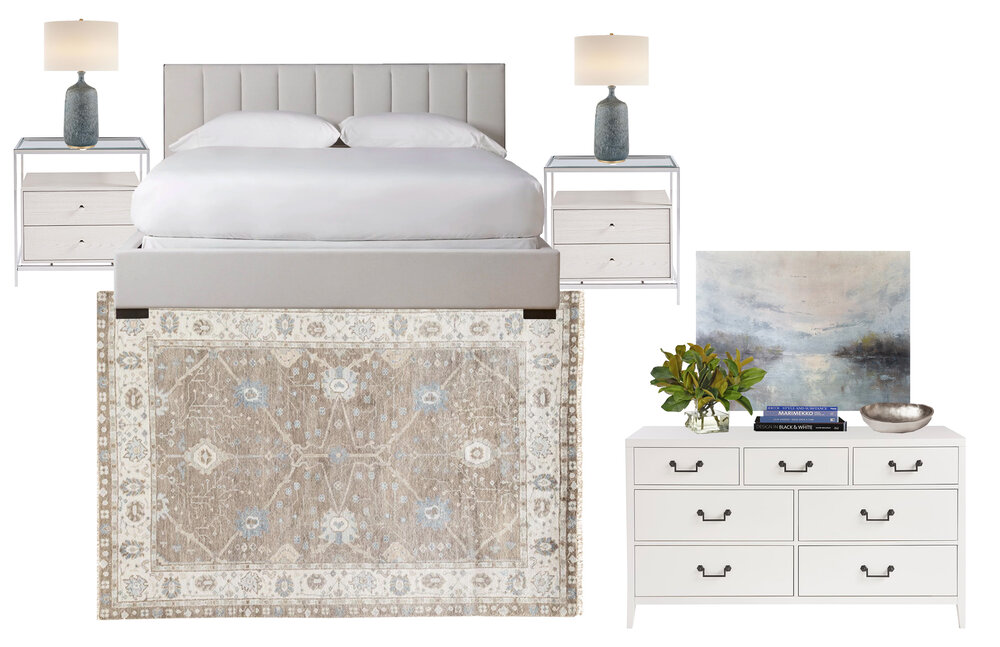 This post is sponsored by Universal Furniture. All words, thoughts, and designs are my own.