Jenny Johnson, the Emmy-winning host of NESN's
Dining Playbook
and
Comcast Newsmakers
, and her husband,
N Magazine
editor and author Robert Cocuzzo, partnered with
New England Home
to reimagine the couple's newly purchased cottage along Boston's North Shore. The goal was to reinterpret the 1903 home for life in the twenty-first century, so Johnson and
New England Home
teamed up with an award-winning interior designer, a renowned builder, and a curated collective of local, regional, and national partners to make the family's vision a reality without sacrificing the sought-after charm and character that defined the cottage's original spaces.
Keeping the functionality of the space in mind, the home was styled in a family-friendly fashion forward approach. Universal Furniture was pleased to participate in this this special project using pieces from collections such as the Escape – Coastal Living Home, Curated and Modern which help demonstrate the range of styles and selections that are offered.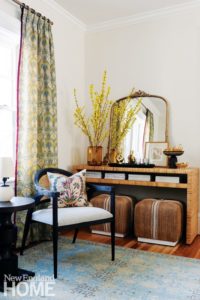 Dexter Accent Chair
The cozy Dexter Accent Chair brings the best of cottage style with dramatic contrast.

WHY WE LOVE IT: Built with an upholstered seat set within a dark frame and woven back, this chair fuses textures creating effortless style.
HOW WE STYLE IT: Though fabulous alone; try adding an accent table between two or adding a patterned accent pillow.
Abaca Cube
The Abaca Cube, with its woven rattan texture in white and tan, adds interest and depth into your home.
WHY WE LOVE IT: The versatility of the Abaca Cube speaks for itself. Whether you're using it as a cocktail table, footrest or seating for an entryway table this piece brings comfort and class.
HOW WE STYLE IT: Try using two cubes in a living room setting pairing it with the Long Key Console Table to bring contrast to the piece.

Jensen Accent Chair
The Jensen Accent Chair quickly becomes the talking piece in the room with its sleek, bold silhouette and lived in leather arms and comfortable custom upholstery. 
WHY WE LOVE IT: The Jensen fits well in any space with a modern, vintage flair and customizable upholstery. The mix of textures brings warmth to any home space.
HOW WE STYLE IT: Try adding a warm neutral throw blanket over the back or arm of this chair.
Wells Accent Chair
The Wells Accent Chair brings a modern twist on the traditional living seating with its mix of upholstery and metals, making it a statement in every space.
WHY WE LOVE IT: The ever-adaptable Wells Accent Chair makes a comfortable seat for guests during cocktail hour or cozying up with your favorite book.
HOW WE STYLE IT: Use a lumbar pillow to bring an added level of comfort and color, tying the entire space together.
Long Key Cocktail Table
When incorporating pieces like the Long Key Cocktail Table to a space, it adds a coastal comfort without being overpowering in any space – whether coastal or not.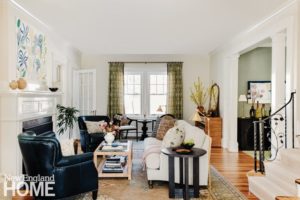 WHY WE LOVE IT: The open air, glass top, rectangular design of the Long Key Cocktail Table gives an open concept to your living space, free to design to your liking.
HOW WE STYLE IT: Whether styling the open bottom or the glass top or both, try adding stacked books and a vase of fresh flowers to bring more life into your home.