It's been two decades since Steve and Marie first visited the area and realized that the stunning rural landscape of the Chattahoochee Hill Country was where they wanted to be full time. The first house at Serenbe was built in 2004, and today the community is home to over 650 residents—and boasts nearly 300,000 visitors a year. The award- winning biophilic community is an example of "new urbanism," a neighborhood that connects people to nature and each other, with a focus on overall well-being. Think walkable businesses, locally grown food, and plenty of fresh air. It's the perfect place for the first-ever RUE showhouse—a stunning space that highlights our favorite products, from exquisite lighting and rugs to cutting-edge appliances.
Keeping in mind the down to earth attraction that brings people to Serenbe, the home was designed with warm tones bringing the outside in. Universal Furniture sponsored this showhouse using pieces from collections such as Coastal Living Outdoor, Curated, Nina Magon and Modern. Cased goods with textural functionality brought sophistication and a contemporary organic vibe into this space. 
Del Mar Dining Chair
The distinctive design of the Del Mar Dining Chair brings elegance to the outside elevating your outdoor entertainment space.

WHY WE LOVE IT: The fusion of curves and angles brings character to this outdoor chair. The wicker body with a smooth gray finish makes spaces feel warm, tying them to the area they are set.
HOW WE STYLE IT: Try pairing these chairs with the Chesapeake Round Dining Table while adding a sophisticated dinnerware set and a vase of greenery.
Reid Counter Stool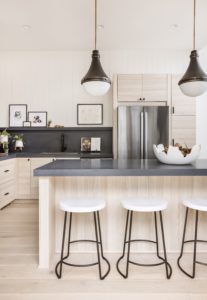 The Reid Counter Stool brings a rustic twist on the modern counter stool with its mix of wood and metals, making it a compliment in every type of space.
WHY WE LOVE IT: This piece features an imprinted seat for comfort and sleek metal legs for a modern twist on the vintage.
HOW WE STYLE IT: The Reid Counter Stool makes perfect seating for an island but also pairs well as console seating for other rooms in the home. Try adding the Elena Counter Table for additional counter space and matching seating.

Decker Wall Bed with Panels
The Decker Wall Bed with Panels quickly becomes the conversation piece in any bedroom. This bed acts as an unexpected art piece bringing class and uniqueness into a home.
WHY WE LOVE IT: As a Pinnacle Award Winner, this oversized headboard is finished with a rolled textured surface in a soft, upholstered fabric.
HOW WE STYLE IT: Finish the room with a pair of Wilshire Nightstands in a quarts finish with accessories like books, lamps or vases. Add the Ligon Bench to the end of the bed for a rounded look.
Mesa Cocktail Table
With two unique finishes layered in tiers, the Mesa Cocktail Table is sure to turn heads.
WHY WE LOVE IT: The Mesa Cocktail Table, with its layered wood and veined marble finishes, adds texture and interest into your home.
HOW WE STYLE IT: Try placing this cocktail table in the middle of the room nestled between a relaxed sectional like the Palmer Sectional and a cool feeling chair like the Bahia Honda Chair. Style the Mesa Cocktail Table with books, beads, greenery and vases.
Marcel Console Table
When incorporating pieces like the Marcel Console Table to a space, it adds an edge of modernity without being overpowering in any space – whether modern or not.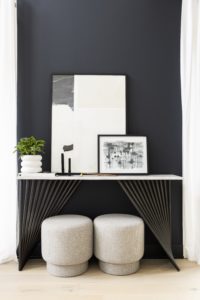 WHY WE LOVE IT: As a Pinnacle Award Winner, this strongly angled statement piece is sure to stand out in any space. The Marcel Console Table looks stunning in a hallway or in a living room as an accent table.
HOW WE STYLE IT: Adding two Reyes Ottomans under this console table adds spice as well as additional seating to a room. Add photos, candles and greenery to the top to bring life to the space.