"Each piece has to work in modern and contemporary homes. If it can do both of those things, it's a good design for me."

Universal Furniture's new collaboration with Erinn Valencich, Erinn V. x Universal, debuts at April High Point Market. We sat down with Erinn to learn more about these bold new designs and the inspiration behind them, and find out why 20 finishes was just the right number.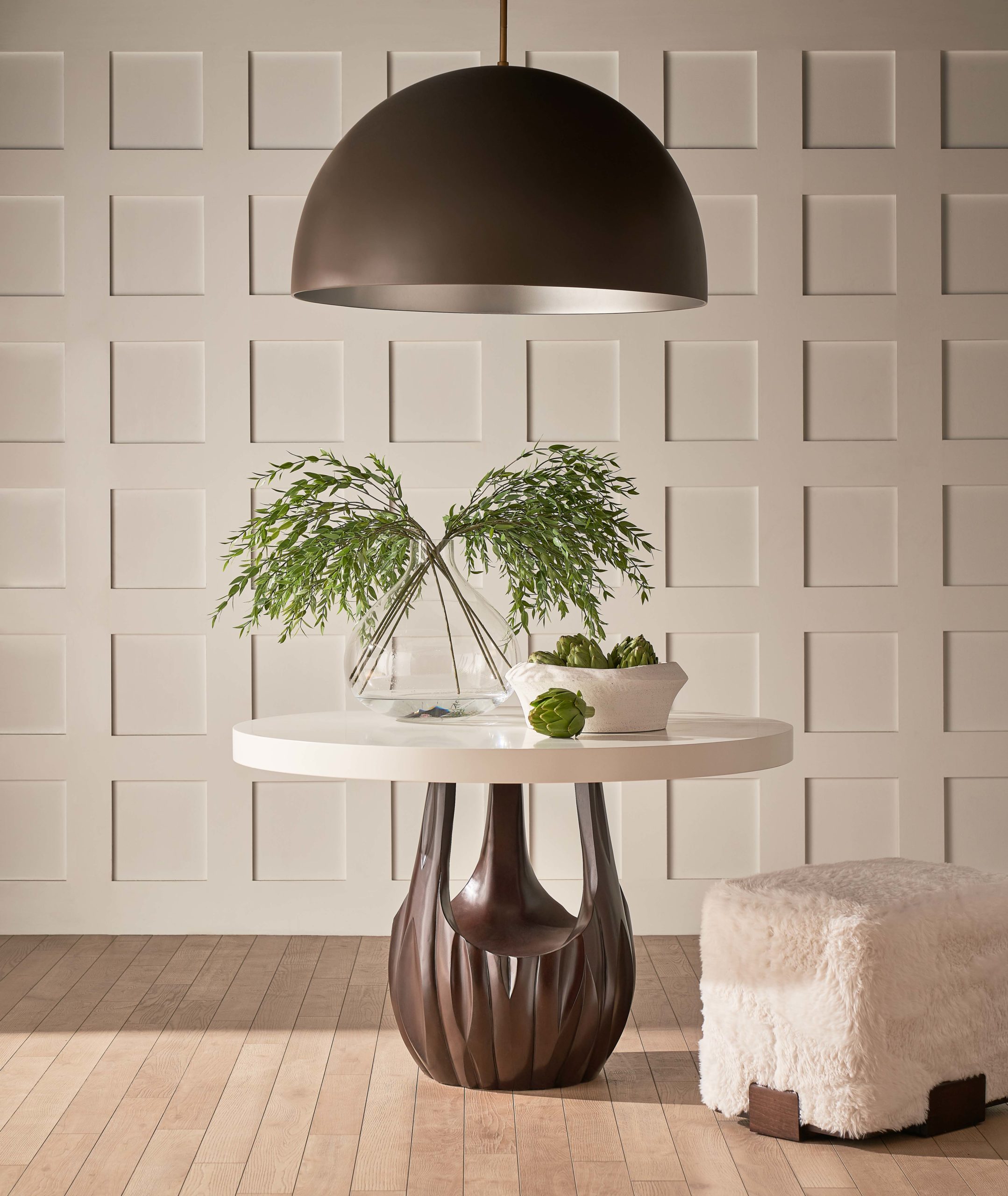 HOW LONG HAVE YOU WORKED IN PRODUCT DESIGN?
I started designing furniture pretty much right out of the gate for my first project, a residence in Brentwood, CA. I'm self taught. I also design lighting, accessories, hardware and rugs for my various licensed collections.
YOU SKIPPED COLLEGE AND WENT STRAIGHT TO WORK. HOW DID YOU DEVELOP YOUR SKILLS FOR INTERIOR DESIGN?
Pretty much just started on my own with a small apartment. Every house we lived in as a child was a fixer.  I am self-taught in that area as well. I worked for a woman who was doing makeover shows for HGTV for six years, which also included makeovers for The View, Oprah, The Today Show, etc., and I got a taste of it there and started figuring it out own my own with a small project for a client in 2004.
YOUR DAD WAS AN ARCHITECT WHO STUDIED WITH FRANK LLOYD WRIGHT AND YOUR GRANDFATHER WAS A FINE CABINET MAKER. WAS IT A GIVEN THAT YOU WOULD PURSUE ARCHITECTURE AND DESIGN?
Not at all. I never even thought of it really. I had no idea what I wanted to do. But I knew I loved homes and building things, and I wanted my career to be both a business and a creative endeavor. Of course, looking back there was nothing else I could have done!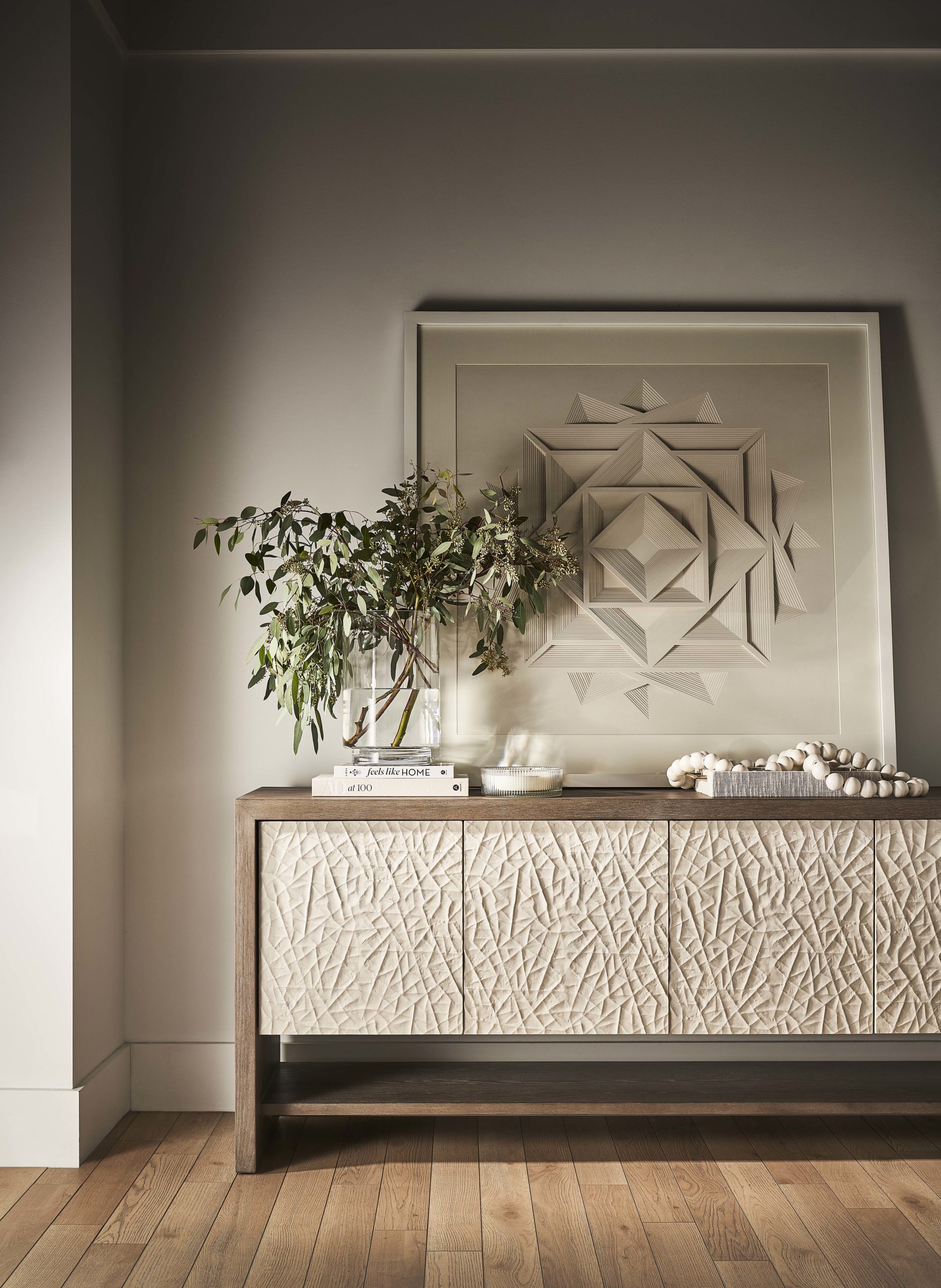 HOW WOULD YOU DESCRIBE YOUR COLLECTION WITH UNIVERSAL FURNITURE?
Timeless with a fresh feel.  I always like my product designs to fit into a traditional space to modernize it or warm up a contemporary home. It gives off a modern, classic vibe, very California cool. The pieces aren't fussy nor too glam, but they have a depth of character that will bring a space alive.
WHAT DID YOU HAVE IN MIND WHEN YOU DEVELOPED THIS COLLECTION WITH UNIVERSAL?
I think about where I see design trends going. I knew this collection would allow a broader audience than my made-to-order designs due to availability and price point. I wanted a collection I could use in my own projects to finish off a home beautifully and I think we achieved that!
WHERE DO YOU FIND INSPIRATION? AND WHAT INSPIRED SOME OF YOUR MOST INTERESTING FINISHES AND DESIGNS IN THIS COLLECTION?
Generally, I travel is quite a bit. My husband is Swiss and I get to Europe often. I like to take pictures of textures and doors and details. Usually I find great textures and then apply them to furniture rather than the other way around. The Shattered Earth finish that appears like a dry lake bed—I'd seen the texture in a specialty finish shop years ago and had been holding onto a small sample for over 10 years. It's finally found a home and looks so great on the pieces!
Another finish in the collection came from the Louis Vuitton store in Paris—the elevator had a hand etched texture with burnished gold. I thought it would make gorgeous cabinet doors!
The Carmel Round Dining Table was inspired by Japanese pottery. I design a lot of pieces in a two-tone finish. It brings a level of interest to a very simple piece. I feel like I'm always looking for great sculptural breakfast table or entry table!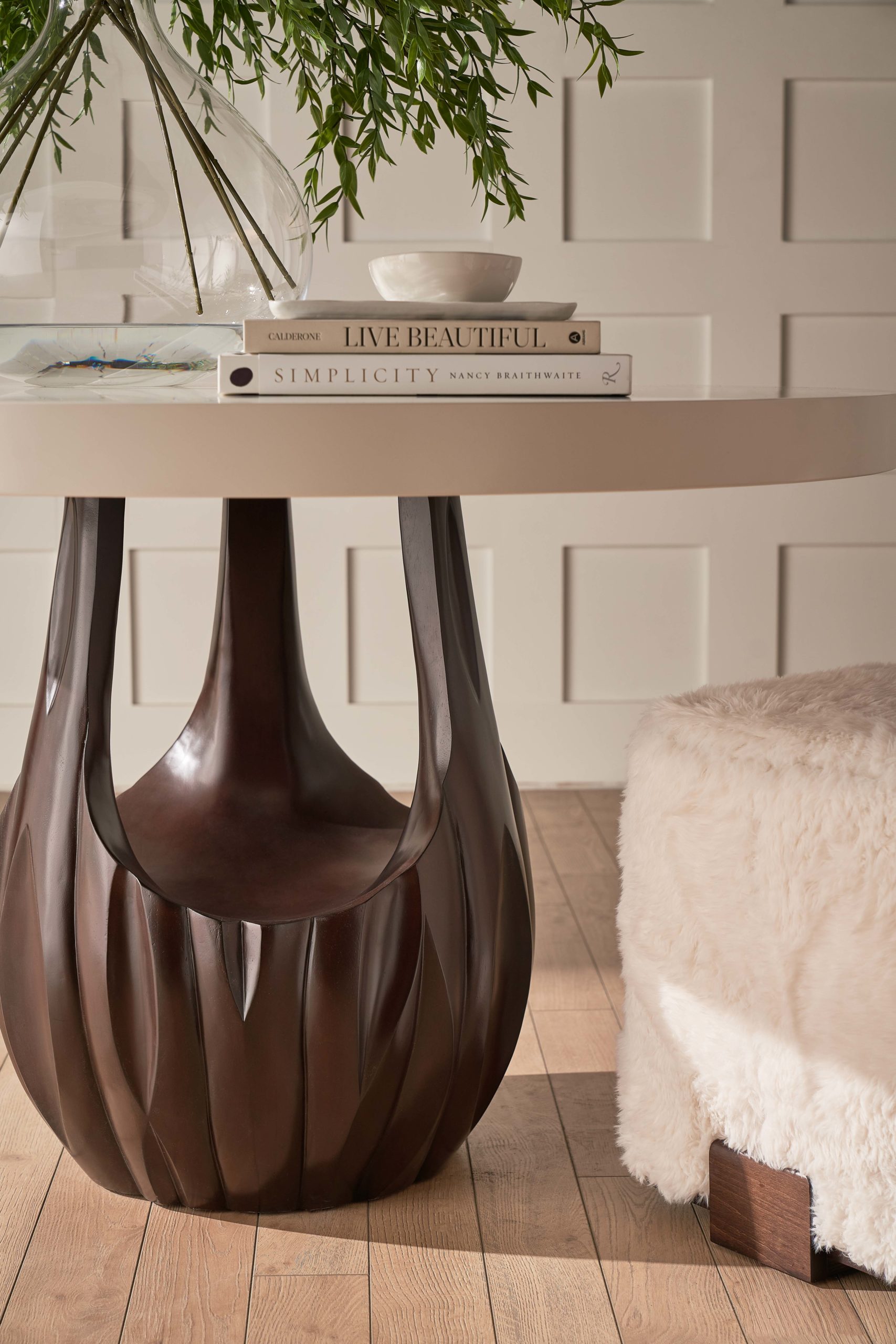 WHAT DOES YOUR COLLECTION PROVIDE INTERIOR DESIGNERS THAT THEY CAN'T FIND ELSEWHERE?
My look is different, sophisticated. It's a departure from what you usually see at Market. I have an elevated sensibility for clean lines that is also very California.  It is a grounded, casual, and coastal vibe without being navy and white stripes.
YOUR COLLECTION HAS 17 WOOD FINISHES AND THREE METAL FINISHES. TELL US ABOUT THAT VARIETY AND THE RANGE OF MATERIALS USED. DID YOU START OUT THINKING YOU WOULD HAVE SUCH A LARGE PALETTE?
It's something I requested from the design team at Universal. I didn't want the furnishings looking matchy, matchy. You need a really good variety of finishes to mix together in a room and on each piece and Universal spent the time to get them right. Many pieces in the collection have 3 materials and finishes.
DO YOU HAVE ANY QUOTES THAT GUIDE YOUR BUSINESS OR YOUR LIFE?
If I'm ever doubting myself I say, "why not me?" If someone else can do it, I'm sure I can figure this out.