Custom furniture is now for everyone
As we continue to spend increased time within our personal sanctuaries, a sense of comfort and home has become a top priority. Luckily, Universal's Special Order Upholstery provides a wide range of options to create a piece that is truly and uniquely yours. With an easy-to-use online tool, customized furniture is no longer inaccessible or exclusive.
Featuring over 400 different fabrics to select from, it has never been easier to create the piece you need to make your space feel complete. The online tool allows for 360 degree views of your creation, so you can visualize your creation from any angle.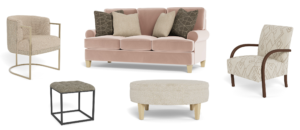 Never sacrifice form for function
If a sleek leather is more your style, our program provides 50 different, luxurious Moore and Giles leather options to truly make a furnishing your own. For a piece with added protection against spills, stains, and other day-to-day accidents, enjoy a performance fabric option from Crypton Fabric, Revolution Fabric, or Sunbrella; each of which offers unique technology for protecting your furnishing while remaining soft, beautiful and on-trend.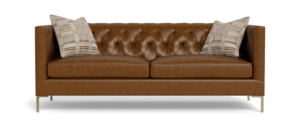 Options to suit every style
In addition to a robust fabric selection, our special order program also showcases over 200 unique frames to choose from, including sofa silhouettes, accent chairs, ottomans and more. Whether you lean more towards minimalistic, modern, classic, or transitional, our upholstery forms offer enough variety to complement any home design style. And, if you already love a particular silhouette from one of our collections, you can enjoy customization benefits there, too! Popular pieces from the Miranda Kerr Love. Joy Bliss. collection and the Nina Magon collection, for example, are included in Special Order Upholstery offerings. Simply pick your favorite and then drape in the fabric that works best for you and your space. You can even customize leg finish and throw pillows when applicable.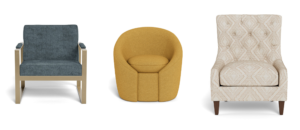 Hand upholstered in the heart of North Carolina
Once you have selected your favorite fabric, silhouette, and even your detail accents like nail heads and wood finishes, your custom piece is proudly produced in our facility located in Conover, North Carolina. This allows your customized product to be produced, shipped and delivered to your doorstep quickly and efficiently!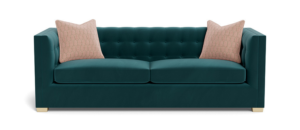 The comforts of home, customized
So, as we continue to spend more time in our own homes working, cooking, entertaining, relaxing, and more, why not enrich your surroundings with a piece that reflects your style perfectly? With Universal's Special Order Upholstery, your imagination is the only limit! Visit universalfurniture.com/customize to get started.