Learn about the art of floral design just in time for Spring.
A beautiful design incorporates balance, contrast, and movement, and a floral design is no different. We visited Karl Hastings at Wild Things in Winston-Salem, North Carolina to learn more about the art of building a compelling and artful arrangement that's perfect for entryways, dining areas, and more.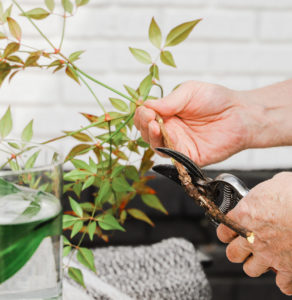 Start by gathering your tools, your botanicals, and a vessel for your arrangement.
Have a floral Pinterest board or something similar that inspires you? Bring that, too.
For simple designs, Karl recommends having small pruning shears, a small knife, and scissors or wire cutters on hand. Prepare your vessel with water and flower food. Once your materials are in place, you're ready to let your imagination run wild!
If you'd like to create a design similar to Karl's, you can find a list of botanical materials at the bottom of this post.

Using a glass vase? Try a leaf wrap.
A flat, wide leaf can be added around the inside of a glass vase to add uniform color and limit the number of stems visible. A leaf wrap helps to create visual continuity in your design, and gives a simple glass vase an elevated look. Simply submerge your leaf for a moment to allow it to saturate, then press it against the inside of the glass.
The only time to practice inhibition is when using your pruning shears.
When it comes to pruning branches and stems, you can always take more away, but you can't put it back. Take your time and be thoughtful when cutting; this will save you money when it comes to materials and will help keep you safe when using sharp shears.
Don't limit yourself to what's available to purchase at the store.
Karl uses Nandina branches — known for their red berries in winter and common in Southeastern landscaping — in his design. Take a quick walk around your yard or outdoor area to look for attractive branches that can be added to your design. Woody stems provide compelling texture and contrast against lush florals.
Experiment with color, texture, and shape.
An arrangement doesn't need to be perfectly spherical, or uniform in length. Karl allows certain branches and stems to emerge at various angles, creating a compelling sense of movement in his design.
"The foliage is coming out very free form; I'm not trying to overly control them," says Karl as he layers Hydrangea blossoms over the Nandina branches. At certain points during the process, certain stems were unbalanced or even tipping precariously out of the vase. If things aren't perfect through every step, that's okay. The more you add, the more the foliage is able to remain upright and rely on multiple stems for balance.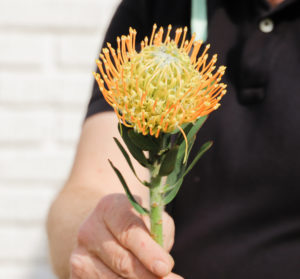 Design principles and trends are just as relevant when designing florals.
Organic shapes and pops of color dominate the current design landscape. Consider incorporating nontraditional shapes and unusual color combinations when designing your floral arrangement. Allow your own style to shine through by using colors and materials that catch your eye.
"Texture is very popular now in design. We like a lot of textures and patterns around us and we mix them in ways that we never would have done ten or 20 years ago, but that's the fun of it, we like to do the opposite of what we've been doing."
Protea, a South African flowering plant, is currently quite popular in floral design. This statement flower adds unique angles and bright colors, which are interesting to the eye.
Provide 'resting points' in your design.
Not every floral in your design needs to be a show stopper. Be sure to incorporate pieces that function as backdrops, such as monotoned, soft-textured greenery. Karl uses Green Trick — a member of the Dianthus family — and Green Rumia to balance out big blooms and long tendrils.
Resting points allow a design to be engaging without being overwhelming to the eye, which helps to foster a sense of calm and wellbeing.
Honor a sense of balance while pushing your creative limits.
Karl and the Wild Things team specialize in an unbridled style of floral design, but always incorporate a sense of balance to create designs that are pleasing to the eye. When building a design with balance in mind, consider your arrangement from every angle and be sure to incorporate something eye-catching from each point in a 360-degree view.
Transitional colors make for lovely eye candy.
Colors and textures that create transitions are very pleasing to the eye, and make sense to us on a subconscious level. If you're incorporating a deep red and a light pink in your design, consider a color that exists between the two on the color spectrum — like peach — to include in your design.
A well-designed floral arrangement is a great way to enhance your home.
Florals add color, texture, fragrance, and more to a space. Consider placing your captivating floral design in an entryway or dining area for a sense of peace and welcome. Seasonal colors and botanicals will complement any seasonal decor while making your home feel more alive.
Thoughtful accent pieces like the Miranda Kerr Opaline Martini Table provide an especially lovely space for a captivating floral design. The soft gold finish of the table accents yellows, golds, and complimentary blues and greens, while its angles echo emerging branches and stems. Browse the Miranda Kerr Love. Joy. Bliss. collection here.
"We apply the principles and concepts of design not only to what we make, but also our lives and how we live."
This design incorporates:
Nandina
Hydrangea
Green Trick
Hypericum Berries
Green-balled Rumia
Lisianthus
Many thanks to the Wild Things team for hosting us and teaching us about the art of floral design. Jenny Ford, Karl Hastings Jr, and the rest of the team are an excellent resource for florals, home accents, and houseplants in the North Carolina triad. Learn more about their services and browse the online store here.