Some people think making the bed is a waste of time—after all, you just crawl back in each night! However, for many, making the bed each morning is far more than a chore or about simply keeping your room neat. Instead, it is a way to begin the morning in an organized manner and with a clean slate that helps to start your day off right. It might be a small accomplishment, but It can also encourage you to keep the rest of your room tidy. It leads to better productivity – something that starts a chain of other good decisions throughout the day, and gives you a sense of taking charge.
Sleep is one of the three pillars of health. It is a fundamental part of your overall health and wellbeing. Sleep affects all aspects of your health and, conversely, it is affected by everything that is going on in your mind and body, as well as in your environment. A National Sleep Foundation poll found that participants who reported regularly making their bed were 19% more likely to say that they got a good night's sleep most nights. This is because they are falling asleep in a tidy, organized bedroom. 75% also said that clean, fresh sheets improved their quality of sleep. You spend roughly a third of your life in your bedroom, and the appearance of your room affects your mood and stress levels. It can be hard to feel calm, relaxed, competent, and grounded when you are surrounded by disorganization. A properly made bed (no, it does not have to be up to military standards, just neat and unrumpled) instantly makes the entire room look pulled together, creating a subtle vibe of tranquility and peace.
The complete bedding guide on how to make a bed easily and beautifully.
With countless linen and bedding choices available at various price points and levels of quality, we've simplified what you need in order to make a bed:
A quality mattress

A luxury fitted sheet

A duvet cover

2 pillow cases

2 shams
Optional, but highly recommended:
A breatheable cotton mattress pad

2 pillow protector covers

A luxury flat sheet

A throw pillow

Throw blanket
Start With the Foundation
Step 1: Start with a comfortable mattress. The quality of your mattress is crucial to your sleep. Before you head out and shop for a mattress, it is important to know the type of sleeper you are. Side sleepers should seek something on the softer side while back or stomach sleepers should seek something more firm. Most mattresses have a lifespan of 8 to 10 years so it's a good idea to invest in a good mattress.

Step 2: Cover the mattress with an (optional) mattress pad. A mattress pad not only provides an extra layer of comfort, but it also protects your mattress from dust, spills and stains. Use a cotton (vs. a polyester) mattress pad for extra breathability during the hot summer nights and insulation for the winter.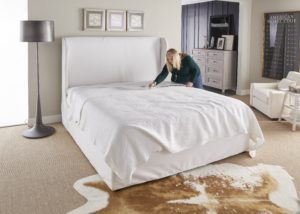 Layer on the Luxury
Step 3: Put the fitted sheet over the mattress pad. Pull the elastic corners of the fitted sheet over each corner of the mattress. the mattress pad. Curious about our thoughts on the best cotton sheets? We recommend investing in the highest-quality sheets you can afford. We all want our bed to look and feel good, so knowing these three tips will ensure you get quality sheets for the most blissful nights' sleep.

Material: Cotton comes in various levels of quality. However, no matter where the cotton is grown, 100% extra –long staple cotton is the best quality cotton. Cotton is a premium product and breathes much better than jersey, linen or other fiber blends such as polyester, bamboo or rayon. Linen sheets are often rough at first, but the natural fibers will soften over time with use and laundering. Flannel sheets are measured by weight, not by thread count: look for grams per square meter (GSM) or an ounce rating instead. Choose flannel sheets that are at least 170 GSM or 5 ounces, and keep in mind that the higher the number, the more dense and warmer the flannel.

Weave: If you like smooth, almost silky sheets, you will like cotton sheets, woven with a sateen weave. For a lighter and crisper hand feel similar to a men's shirt, you will like a percale weave.

Thread count: Thread count matters, but be wary of anything above 600. To achieve thread counts higher than 600, bedding manufacturers often times use creative weaving and counting methods that do not necessarily result in a higher quality fabric. A high-quality sheet that will last you for years to come will be around 500 thread count. 
Step 4: Next comes your (optional) flat sheet. Lay your flat sheet on top of your fitted sheet with the finished side facing down. To get that super crisp look, tuck in the bottom corners. Then fold over the top of the flat sheet.

Interesting fact! Almost 40% of Americans do not sleep with a top sheet.

Step 5: Layer with a beautiful duvet cover and fluffy comforter. Put the duvet cover on the comforter. Here are three easiest ways we found on how to put a duvet cover on a comforter. Duvet covers are now universally recognized as the most easy-care bedding option for your bedroom. Use the duvet cover as a statement piece for your room. When choosing your duvet cover, think not only quality (material, weave and thread count) but also choose the design and style you like. It will set the tone for the entire bedroom and is easy to switch and style every season. To create the dreamiest bedroom, have fun with color, pattern or texture on your bed.
Fun tip! Have some decorating fun by styling your duvet cover in different ways to achieve your desired look. Try making your bed with the duvet cover pulled all the way up, folded halfway to expose your beautiful sheets or, our personal favorite, folding it in thirds at the foot of your bed for a luxury hotel look.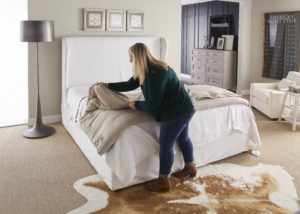 Get Styling
Step 6: Finish with pillows. Having pillows on the bed completes the look of the bedroom. It is always a good idea to match at least two pairs of shams (euro, standard or king) with your duvet cover, layer next with your sleeping pillows (the ones that come with your sheet set), and then add more decorative shams and a decorative throw pillow or two to complete the bed. We recommend covering your sleeping pillows with a pillow protector covers for longevity.

Fun tip! We like the odd pillow rule! There is such thing as too many pillows. When styling pillows on the bed, we like to think in odd numbers. 3, 5 or 7 pillows will remove symmetry and add interest to the eye. Keep a deep, wide storage basket next to your bed to place smaller accent pillows during the night. You'll have easy access to grab them and put them back on your made bed in the morning.
There's nothing like coming home to the perfectly made bed and having the most blissful nights' sleep upon layers of designer bedding. Repeat Steps 4-6 every morning.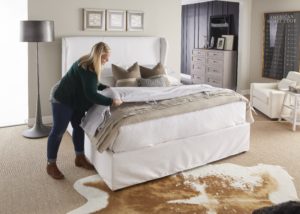 Words of advice from Jennifer: 
While there are lots of guides on how to make a bed, everyone has their own comforts. Start with the basics and build on that foundation. Think in threes: sheets, blanket, duvet for the foundation. Then add threes of extras: shams, accent throw pillows and a throw. Layering gives a more luxurious look. There is so much product on the market, that you can find a wide price and quality range in all the items. Also find what feels good to you, you should find items that feel good to the touch. 
Jennifer E. Hansen, Designer at Universal Furniture 
Sources: 
Patient Info – 
https://patient.info/news-and-features/what-are-the-mental-health-benefits-of-making-your-bed-each-morning#:~:text=A%20National%20Sleep%20Foundation%20poll,improved%20their%20quality%20of%20sleep. 
Sleep Health-
https://www.sleephealth.org/sleep-health/?gclid=CjwKCAjw_YShBhAiEiwAMomsEMjCB6d4aNCO_yarpeoOThAfkISDlTWmHehyhsItplJP1MoopAY9jhoC654QAvD_BwE  
The Company Store – 
https://www.thecompanystore.com/what-is-thread-count?cm_mmc=GOKW-_-%5BADL%5D+%5BNon-Brand%5D+Dynamic+Search+Ads+-+Catch-All+-+General-_-Adult+-+All+Webpages-_-_%7cc&gclid=CjwKCAjw_YShBhAiEiwAMomsEMFGtzom-ZqGRF9MLEim6n0qFj5ZaRU2RXBWLwtZRiBVr44i0elHhxoCA8YQAvD_BwE&gclsrc=aw.d
The Spruce – 
https://www.thespruce.com/reasons-to-make-your-bed-every-day-350511 
Very Well Mind –
https://www.verywellmind.com/mental-health-benefits-of-making-your-bed-5093540#toc-why-should-you-make-the-bed 
Featured in images:
Jennifer Hansen and the Universal Furniture Modern Farmhouse Collection