White is a perennial favorite for home decor, and for good reason. It is a color that suggests a clean, open and breezy, even when a room is limited in size. It evokes clarity, innocence and hope. White is also timeless and adaptable – easily combined with other colors, textures, sheens and materials which is one of its many appeals.
When working with a white palette, be sure to incorporate lots of different textures – such as combining leather and other upholstered furniture in linens, velvets, cottons and don't forget one of the most important and essential fabrics today, performance. It's a great way to give a room depth, tactile character and a lived-in natural feeling. Being the classic it is, white can be a natural, inspirational choice, even those with small children – not only does white furniture show less dust than dark does, but many of the new white fabrics are stain-resistant and washable. Focus on key pieces so there can be interchangeable accents, to help switch decor with the seasons without changing your entire space. In improving your home and everyday life, clean out the clutter; knick-knacks and unnecessary items are going by the wayside to create cleaner, more bright, open spaces. In turn, this lets the furniture speak for itself with little distraction to its beauty.
When designing any room, choosing furniture that looks good is a key concern, but having furniture that feels good is arguably even more important. As we have taken to our homes for refuge over the past few years, comfort has become paramount, and furniture styles are adapting to the need. The appeal of curved furniture comes down to simple psychology: Our brains are inherently drawn to circular forms and curved lines, which are associated with safety and calm. A curved form is subconsciously read as relaxing, friendly and welcoming. In recent decades there has been a shift towards more organic and sculptural alternatives to traditional boxy furniture designs. Incorporate natural textures with furniture and accessories made from materials such as wood, stone, and natural fibers. Combine various rugged, smooth, nubby, and soft textures to re-create the balance found in nature. Curves are also incredibly visually appealing. They add an element of softness and sophistication to a space.
One of life's greatest pleasures is entering a space that gives you a relaxing feel. Comfort can be defined differently by us all. Some wonder how to have that without feeling like a space is not expressive – but you can have style in a space without being bold in color, by being rich in texture. Neutral colored spaces maintain all of their intentions by using fabrics and pieces with texture and different shapes to give spaces life and creativity. Additionally, curved furniture is extremely versatile and can be used in both traditional and contemporary settings. This can also mean that your unique pieces can become a focal point of charm, functionality, and great conversation. You often hear and feel that "Home is our safe haven and comfort zone." Our homes are a place where we as incomparable individuals can find happiness. Having different visions is part of the greatness. Home can be beautiful and our place of serenity at the same time. And so, in today's atmosphere, it's only natural that white and soft curved pieces are playing a starring role in home decor, as Americans hunker down and seek to make their home their sanctuary.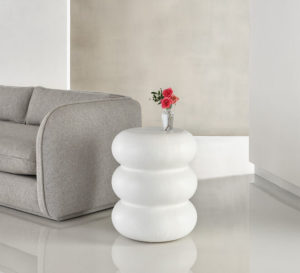 The Enlightenment Side Table captures a chic and modern aesthetic with a fully textured white body carved in a geometrically-inspired silhouette.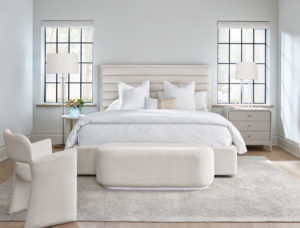 Cozy and oh-so-inviting, the Tranquility Bench is the perfect bedroom accent when an extra dash of style, texture and comfort is needed.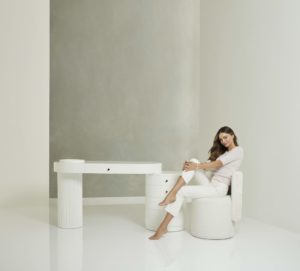 Instantly elevate home offices and other living spaces with the Mode Desk/Vanity, a truly striking statement piece designed with an asymmetrical body, sleek pull hardware and
soft ridged column detailing.
Plush and wildly sophisticated, the Mode Vanity Chair features an inspired, fashion-forward silhouette encased in luxurious sheepskin upholstery.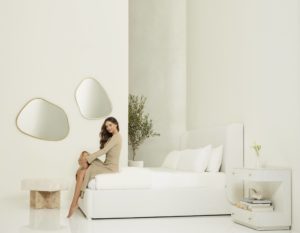 Exuding a soft and refined vision, the Restore Upholstered Bed adds layers of textural depth and interest to bedroom areas with a simplistic frame and rounded edges.
Elevate bedsides with the imaginative Paris Nightstand, a stylish twist on a retro look featuring two drawers, white marble tops and a lavish white sycamore finish.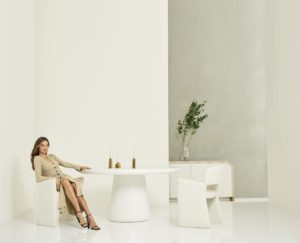 A rich, subtle texture instantly sets the Truffle Dining Table above the rest while its simple silhouette serves as the ideal complement to many different interior aesthetics.
Funky meets sophisticated in the Morel Arm Chair, an inspired comfort piece showcasing a striking silhouette with subtle geometric nods and a cozy sheepskin finish. 
Universal Furniture debuted Tranquility, the second collection from Miranda Kerr, which is available to pre-order now.
Sources:
https://www.bhg.com/decorating/lessons/expert-advice/curved-furniture-trend/  
https://blog.sampleboard.com/curved-furniture-the-hottest-new-trend-in-interior-design/ 
https://www.forbes.com/home-improvement/interior/curved-furniture-trends/ 
https://www.sherwin-williams.com/architects-specifiers-designers/inspiration/styles-and-techniques/sw-article-pro-thewhitefurnitu