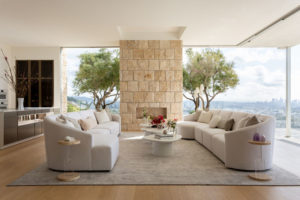 Products Featured: Serenity Sectional | Nesting Cocktail Tables | Burl Side Table
Miranda was inspired in Paris, France for her second furniture collection. Burl wood, soft shapes, organic fabrics, and touches of rose quartz give this collection dimension, warmth, and create a serene atmosphere.
Product Featured: Mantra Sideboard
Q. What inspired you to start a furniture collection, and how did you get started in the industry?
A. It has been a dream of mine to create my own collection of furniture. I have a great eye for design and a firm understanding of what I want to convey through my furnishings. And I've always had a love of interiors, which started when I was very young. My dad is a builder, and I would tag along on jobs.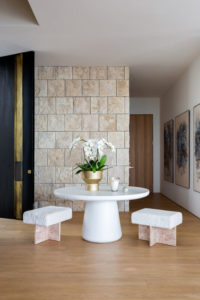 Products Featured: Truffle Round Dining Table | Riviera Bunching Bench
Q. How do you approach designing furniture that is both beautiful and functional?
A. I create items that are inspiring and beautiful, but that are still functional for everyday life. I don't have rooms in my house that are off limits for our children, so I wanted to reflect that in this collection as well. Many of the upholstery fabrics handle stains well and are easily cleanable.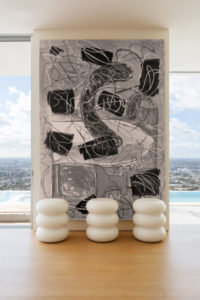 Products Featured: Enlightenment Side Table
Q. What sets your collection apart from others in the market?
A. The sheer intention of my collections makes them unique. I don't set out to create something that fits a particular need in the marketplace. Instead I come from a place of intention. What designs can we develop that will bring about a sense of love and a feeling of serenity in the home?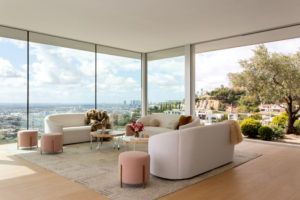 Products Featured: Serenity Sofa | Aerial Cocktail Table | Love. Joy. Bliss. Pouf
Q. Can you talk about any challenges you faced while developing your collection and how you overcame them?
A. Tranquility was developed during the pandemic, which meant we couldn't gather in person and discuss designs as we normally would. So the team pivoted and we created Tranquility entirely in a virtual and digital environment, using Zoom calls and emails.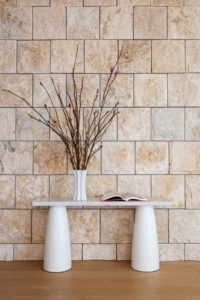 Product Featured: Harmony Console Table
Q. What do you hope customers will feel or experience when they bring your collection into their homes?
A. Tranquility is reflective of today's need for reassurance. It's the idea that a home should be an inviting place of solace and respite, a warm and welcoming space. We strove to create designs that bring both physical and emotional comfort to all the rooms in your home.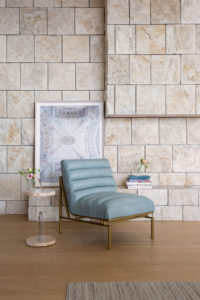 Products Featured: Channeled Accent Chair | Burl Side Table
Photography by Amy Bartlam
Location: Hollywood Hills, LA