Holiday lights are twinkling, windows are glowing, and outside, frost is glistening. Tis the season for merrymaking and homemaking, and what better way to celebrate at home than with a festive cocktail. Whether entertaining friends or enjoying a quiet night by the fire, it's the perfect time to indulge the senses and enjoy the decadence of the holidays.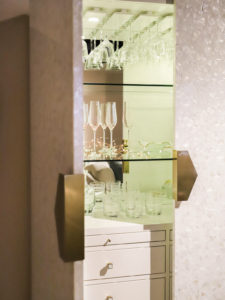 Love. Joy. Bliss., our first furniture collection in partnership with Miranda Kerr, is full of soft golds, alabaster whites, and delightful pops of pink. Pieces like the Opaline Bar Cabinet and the Opaline Martini Table are thoughtfully designed for entertaining and are irresistibly eye-catching with iridescent, mother-of-pearl details. Pair them with your mixology skills and your most glamorous glassware and you're sure to impress your guests. 
We especially love a pop of pink for feeling festive, so we've gathered a few of our favorite classic cocktails and reimagined them in hues as rosy as a frost-kissed nose. What better way to spread holiday cheer than with a delightfully pink drink?
WARMER IN WINTER G&T
The Gin & Tonic is classic, simple, and delicious in any season. Make it fun and festive with a touch of grapefruit juice and Angostura bitters for a pink hue. It looks especially lovely in a rocks glass with an evergreen sprig to accentuate the juniper character of the spirit.
Ingredients:
1 oz. Gin

3 oz. Tonic Water

1 oz. Grapefruit Juice

Angostura Bitters

Evergreen sprig to garnish
Fill a rocks glass with ice. Add gin, tonic water, and juice over the ice and stir. Add a dash of bitters and garnish with a seasonal sprig of evergreen for a delightful drink to enjoy by a fire.

MISTLETOE MARTINI
Shaken, not stirred, and caught blushing under the mistletoe. We love a classic martini for its bold character, and we've made it fun and approachable with a dash of rosy sweetness.
Ingredients:
3 oz. Vodka

½ oz. Dry Vermouth

½ oz. Rose Syrup

(We recommend Royal Rose's Rose Simple Syrup, available at Total Wine)

½ oz. Lemon juice

Citrus wedge to garnish
Combine ingredients in a shaker over ice and shake until well chilled. Strain into a coupe glass and garnish with a citrus wedge.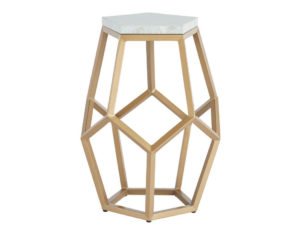 MERRY LITTLE GIN SPRITZ
Want a cocktail as sparkly as your holiday lights? The Merry Little Gin Spritz is effervescent and delightfully drinkable.
Ingredients:
1 oz. Gin

2 oz. Cranberry Juice

Prosecco

Evergreen sprig to garnish
Combine gin and cranberry juice over ice and stir. Strain into a highball glass with ice and top with Prosecco. Add an evergreen garnish to compliment your tree and the flavor of the gin.

CANDY CANE COSMO
Known for being both classic and fun, the Cosmopolitan is a wonderful beverage for a holiday party. We recommend trading the traditional citrus garnish for a candy cane to add a little sweetness to your holiday bar.
Ingredients:
1 ½ oz. Vodka

1 oz. Cranberry Juice Cocktail

¾ oz. Cointreau

¾ oz. Lime Juice

Candy Cane to garnish
Combine ingredients in a shaker with ice. Shake until well-chilled. Strain into a coupe glass and garnish with a candy cane.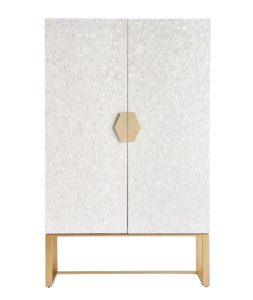 No matter your preference, we hope your days are merry and bright, and your cocktail glass full. Happy holidays!
Browse in-stock and ready-to-ship furnishings at universalfurniture.com/instock.
Keep up with the latest from Universal Furniture on Instagram at @universalfurn.