Summer Oasis
A sophisticated outdoor summer oasis is an exquisite and carefully curated space, designed to provide you and your guests with the utmost indulgence with stylish and high-quality comfort during the warm months. An idyllic retreat embraces the natural beauty of its surroundings while seamlessly blending opulent amenities with harmonious outdoor elements. Luxury outdoor furniture is not only functional but also aesthetically pleasing, enhancing the overall ambiance of outdoor spaces such as patios, gardens, balconies, or pool areas.
Here are some ways luxury outdoor furniture can boost your mood:
Comfort and Relaxation: Luxury outdoor furniture is designed with comfort in mind. Plush cushions, ergonomic shapes, and ample seating space invite you to unwind and relax. The comfort of the furniture can help reduce stress and promote a sense of tranquility, encouraging you to spend more time outdoors and enjoy the fresh air.
Aesthetic Appeal: Beautifully designed outdoor furniture can significantly enhance the visual appeal of your outdoor space. Whether it's a modern and sleek design or a more classic and elegant style, luxury outdoor furniture adds a touch of sophistication and refinement. Being in an aesthetically pleasing environment can elevate your mood and make you feel more content and happy.
Connection with Nature: Spending time outdoors has been shown to have numerous psychological benefits. Outdoor furniture creates an inviting environment that encourages you to spend more time outside, connecting with nature and enjoying its beauty. This connection with nature can reduce feelings of anxiety and increase feelings of happiness and well-being.
Socializing and Bonding: Outdoor furniture often provides seating for gatherings with family and friends. Having a comfortable and attractive outdoor space can make socializing more enjoyable, fostering stronger connections and positive emotions through shared experiences.
Outdoor Dining Experience: Luxury outdoor dining sets can turn a simple meal into a delightful experience. Eating outdoors, especially in a beautifully arranged space, can elevate your mood and create cherished memories.
Personal Retreat: Having a well-furnished outdoor space allows you to create a personal retreat where you can escape from the hustle and bustle of daily life. This space can become your sanctuary for relaxation and contemplation, boosting your mood and overall sense of well-being.
Seasonal Variety: Luxury outdoor furniture allows you to adapt your outdoor space to different seasons and occasions. From lounging by the pool in the summer to cozying up by a fire pit in the winter, having versatile and high-quality furniture can make each season more enjoyable.
In conclusion, luxury outdoor furniture not only provides functional benefits but also contributes to an enhanced mood and overall well-being. Its ability to create an inviting and comfortable outdoor environment can help reduce stress, increase happiness, and encourage you to spend more time in nature, leading to a more positive and fulfilling lifestyle.
The Coastal Living Outdoor collection is inspired by outdoor living and aims to bring the relaxed and breezy ambiance of coastal regions to your outside space. It includes various types of outdoor furniture such as dining sets, lounge chairs, sofas, coffee tables, and more. Coastal Living Outdoor pieces are crafted with attention to detail, using durable and weather-resistant materials, ensuring they can withstand the elements and maintain their beauty over time. The materials used in this collection were chosen to withstand outdoor conditions, such as weather-resistant wicker, teak wood, cast concrete, or aluminum frames with durable finishes. The color palette reflects the coastal theme with soft colors, whites, sandy neutrals, and natural wood tones. There are 55 items in our outdoor special order program, so you can always add color with our 45+ outdoor fabric color options, if you prefer.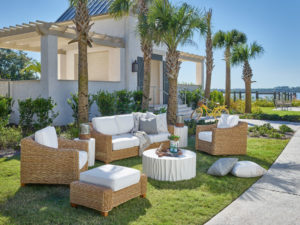 Laconia Lounge Chair *special order options available
Laconia Ottoman  *special order options available
Laconia Sofa *special order options available
Laconia Swivel Chair *special order options available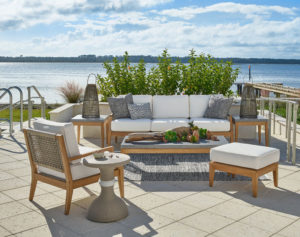 Boden Accent Table
Chesapeake Lounge Chair  *special order options available
Chesapeake Ottoman *special order options available
Chesapeake Sofa *special order options available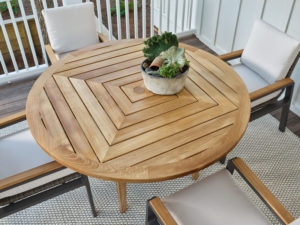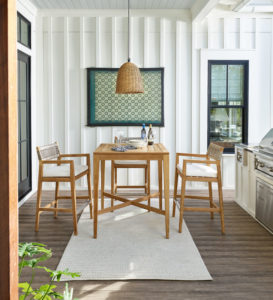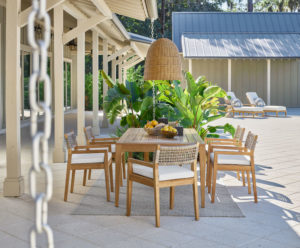 Chesapeake Rectangular Dining Table