With nods to cottagecore, industrial modern, and traditional styles, Modern Farmhouse brings something new, yet familiar, to the table. From king beds to accent pieces, rustic finishes and woven pieces evoke a sense of closeness to nature. If you let them, the pieces can transport you to a simpler time, like skipping rocks on a lake or chasing fireflies on a warm summer evening.
Comfortable and a little bit nostalgic, cottage style includes weathered finishes and textural elements that might be found in the countryside. Organic modern style is a lovely combination of minimalist frames and natural materials. Universal Furniture delivers the best of both styles in the new Modern Farmhouse collection.
Irving Arm Chair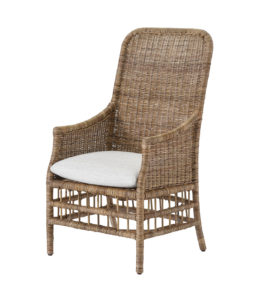 The tall-backed Irving Arm Chair brings natural elegance into a dining room with its warm texture.
WHY WE LOVE IT: The woven details are the best of cottage style, with a cream-colored cushion for a touch of modern sophistication. The dramatic back height makes it a perfect host chair while adding warm dimension to your space.
HOW WE STYLE IT: Try a decorative lumbar pillow to incorporate decor colors or seasonal festivity.
Seaton Stool
The Seaton Stool adds interest with its hourglass shape and blend of woven hyacinth and abaca rope. Even though woven furniture has its imperfections, it is fine enough for the most impeccable city homes. Yet we love it for its honest simplicity.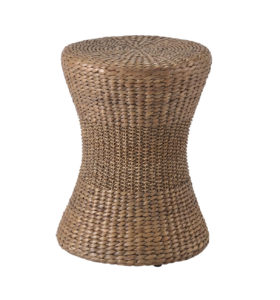 WHY WE LOVE IT: The Seaton is adaptable in every sense. Place it at the foot of a bed, in an entryway, or in your lounge or sunroom for visual interest and extra seating.
HOW WE STYLE IT: The Seaton is fabulous all on its own; try tossing a shag throw on top for cozy, plush seating in the colder months.
The cottage style of the collection is light and airy with rustic textures and soft finishes. The furniture brings casual elegance into any room – from entertaining spaces to bedroom retreats.
Sadie Credenza
When you incorporate pieces like the Sadie Credenza into a space, you reinforce a sense of elegance and refined taste. The geometric silhouette on the façade has an understated strength that blends well with the more organic elements in the collection.
WHY WE LOVE IT: The Sadie Credenza puts the modern in modern farmhouse. The gorgeous, geometric detailing is given even more dimension with a rustic buttermilk finish, and plenty of storage hides behinds its doors.
HOW WE STYLE IT: Add one statement accent or a trio of similar objects, like candleholders or photo frames, plus some greenery and a stack of books.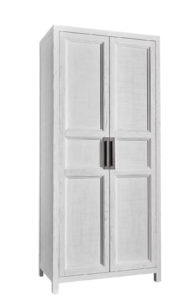 Morgan Utility Cabinet
The Morgan Utility Cabinet, with its three drawers and two shelves, is substantial, yet the soft finish elevates it from utility to an impressive focal point.
WHY WE LOVE IT: The Morgan Utility Cabinet would be at home in a city loft or a country cottage. It's sleek and industrial, yet familiar and homey at the same time.
HOW WE STYLE IT: A trailing plant like Pothos makes a lovely crown for the Morgan Utility Cabinet. Or, try a few vintage baskets of varying heights that will pop against the Rustic Oak finish.
Modern Farmhouse style is all about taking the best of rural life and contemporary design to create something new, fresh, and functional.
Elena Counter Table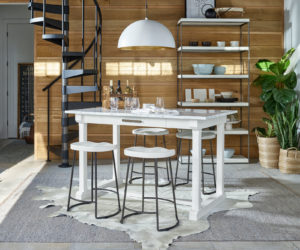 The Elena Counter Table has a traditional farmhouse base, but we've added a luxurious stone top to create a modern twist on an old favorite.
WHY WE LOVE IT: The ever-adaptable Elena Counter Table will impress your most important guests during cocktail hour, or provide a laidback space to enjoy a game night with family.
HOW WE STYLE IT: Add several Reid Counter Stools and you've created another elegant, yet casual, dining and entertaining space. Adorn the top with a rustic wine rack, or spread out a game board for a fun night at home.
With the Modern Farmhouse collection, we want you to be able to imagine living spaces that express the beauty of simplicity. Whether you focus on the modernized classic pieces or the natural look of our woven furniture, you can be transported to a place of refined charm. Pre-order now for stock available Fall 2021.