The Adaptive Cottage was recently constructed in Habersham, South Carolina, and is a home specifically designed to accommodate those who have mobility issues or wish to age in place. This single-story home has all the amenities you would want in a coastal cottage – including ample porch space – but it's built with practicality in mind. The design includes the option to add a ramp from the garage area to the rear door, as well as baths that feature zero-entry showers and slip-resistant flooring in all wet zones.
Keeping in mind the down to Coastal attraction that brings people to the shores of South Carolina, the home was designed with cool tones and bright light. Universal Furniture sponsored this showhouse using pieces from collections such as Coastal Living Escape and Getaway, Curated and Modern Farmhouse. Cased goods with unique textures and finishes brought natural elegance and comfort into this space.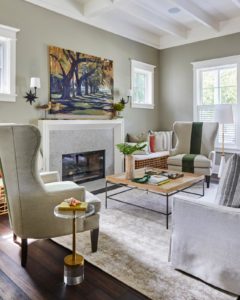 Surfside Wing Chair
The influential design of the Surfside Wing Chair brings coastal elegance and comfort into your living space.

WHY WE LOVE IT: The Surfside Wing Chair defines a room with the vertical stripe and exaggerated back. This piece is finished with tapered, wooden legs.
HOW WE STYLE IT: Try customizing the vertical stripe and placing two identical chairs across from each other. Add the Kiawah Sofa for additional seating and finish the look with a cocktail table in the middle.
Bowen Side Chair
The Bowen Side Chair brings a rustic twist on the classic dining chair with its whitewashed wood, making it a compliment in every type of space from coastal to modern.
WHY WE LOVE IT: Inspired by comfortable living, the Bowen Side Chair features a clean-lined body with an upholstered seat. 
HOW WE STYLE IT: Pair four of these dining chairs with two Irving Arm Chairs on the end caps surrounding the Homecoming Dining Table.

Mirmar Accent Chair
The distinctive design of the Miramar Accent Chair encompasses all things coastal in a chair fitting anywhere in the home.
WHY WE LOVE IT: With coastal flair and relaxation in mind, the Miramar Accent Chair's rattan body cradles an upholstered seat.
HOW WE STYLE IT: The Miramar Accent Chair fits well in both a living room and bedroom setting. Try adding the                                                                                                                  Deco Martini Table for added texture and a space to set items. 
Cubist End Table
With a natural finish formed in a unique cube shape, the Cubist End Table can be styled up for a glamorous look or styled down for a more relaxed look.
WHY WE LOVE IT: Both simplistic and sophisticated, the rounded edges, square body and white finish leave all adoring this piece.
HOW WE STYLE IT: Try placing the Cubist End Table between two beds or chairs. Add books and a floral vase for variation. 
Boca Grande Key Bed
The Boca Grande Key Bed quickly becomes the statement piece in any bedroom. This bed brings unexpected class with the open air canopy.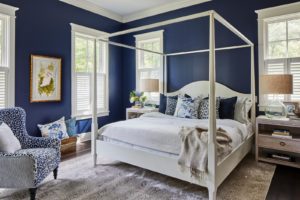 WHY WE LOVE IT: Capturing the clean, calmness of the ocean, the Boca Grande Key Bed has a light and airy, open canopy with a crisp white finish.
HOW WE STYLE IT: Style the bed with a white duvet and shades of blue pillows. Add two Getaway Drawer Nightstands on either side of the bed to complete the look.