Universal Furniture debuted Tranquility, the second collection from Miranda Kerr, which is available to pre-order now. Featuring materials like burl wood, rose quartz, and a new performance fabric from Crypton made from recycled cotton, the Parisian-inspired pieces are warm, holistic and inviting, with wellness aficionado Kerr's keen eye for detail evident throughout.
There has been a return of earthy browns and nature-inspired surfaces. With more time spent indoors in the past few years – there has been a desire to strengthen our connections with nature. The organic, porous, imperfect look of these materials adds depth and visual intrigue while also bringing in the calming, restorative ambiance of the outdoors. What we have in our personal space can help promote warm, positive and loving energy, as Miranda says. 
What is Burl? –
On a tree, a burl is an external deformed growth on a trunk or branch that creates intricate growth patterns that can look like swirls. The random grain designs are highly prized for its beauty. Burl wood isn't just rare—it's proof that imperfections can be beautiful. The intricate wood grain pattern look adds character and life to any room even just as a standalone piece.
Making Its Comeback –
Popular in the 1920s Art Deco era, burl wood gained momentum throughout the Hollywood Regency age before reaching its peak in the 1970s. Now, we are seeing a resurgence of interest in burl wood furniture and décor with people seeking its unique character to transform their home. 
How to Style It – 
One way to integrate multiple burl wood pieces into one room is to look for pieces within the same collection, like in our Miranda Kerr Tranquility designs. The striking grain patterns also blend beautifully with other materials or can be accentuated with bright colors, so it's easy to incorporate the style into your home. Whether you are partial to spaces that highlight warm wood tones or a clean line, minimalist look that blends textures, burl wood furniture can be that for you in any space. Burl wood is also perfect for a maximalist aesthetic; the random grain patterns and warm wood tones imbue character to more eclectic spaces. Incorporating burl wood veneers into your design is a great way to utilize the striking beauty of burl wood while keeping costs lower when compared to solid burl wood products. 
Miranda's Words – 
I was very inspired by Parisian style and decor while designing this collection. I was mindful about it pairing well with my original Love.Joy.Bliss. collection, so I continued the neutral palette while incorporating more organic elements with the use of materials like marble and natural woods. The collection is also inspired by mushroom silhouettes with soft curves and waterfall edges, warm sycamore and Madrona burl woods, white lacquer and textured plaster finishes, with a touch of rose quartz. My overall intention when designing this collection was that I wanted the pieces to be inspirational, inviting and livable. I wanted to create an ethereal, tranquil vibe with rounded and soft curves. I really wanted to create items that are inspiring and beautiful, but that are still functional for everyday life and invite a calming, serene energy.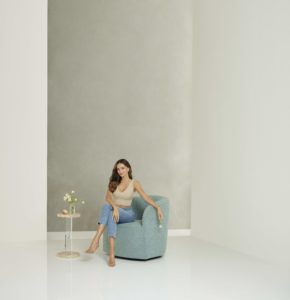 A dynamic juxtaposition of materials, the Burl Side Table showcases a burled top and base artfully connected by an interlocking acrylic pedestal.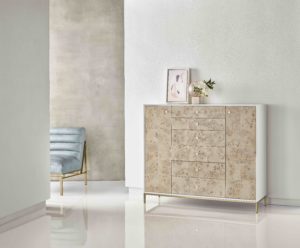 An eye-catching piece of artistry, the Halycon Chest delights the senses with its opulent finish and succinct metal pulls.
Its unique aesthetic is equally matched in function with six drawers, two doors and six adjustable interior shelves.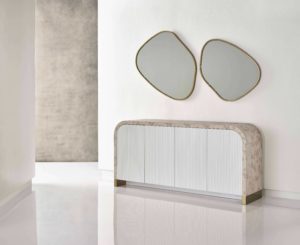 The Mantra Sideboard exudes a stunning blending of materials with white ridged doors, a curved burled-finished frame and subtle gold accents.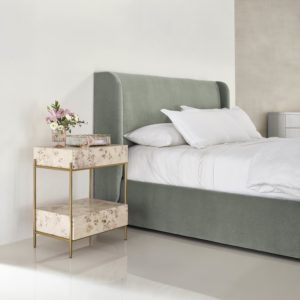 Stun interior spaces with the inspired Tranquility Nightstand, a neat statement piece with two drawers, a modern gold frame and an eye-catching burled finish.
The Aerial Cocktail Table features a gorgeous burled tabletop supported by four half-moon-shaped acrylic legs, making for an ideal living room statement piece.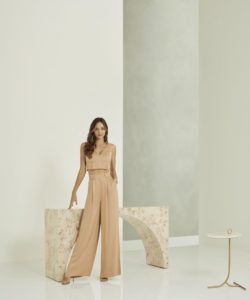 Introduce texture and modern flair to spaces with the Arc Console, a confident piece featuring a crisp crescent silhouette finished in a luxurious burled hue.
Sources: 
https://www.vogue.com/article/interior-design-trends-2022 
https://eye-swoon.com/burl-wood-furniture/  
https://www.interiorsdigital.com/interiors/august_september_2022/MobilePagedReplica.action?pm=2&folio=26#pg27
https://www.universalfurniture.com/collection/tranquility%20-%20miranda%20kerr%20home