Lakefront Luxury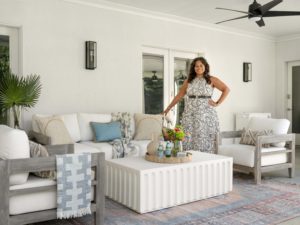 After a long-awaited move to the suburbs, interior designer Erika Ward creates a comfortable and spacious lakeside home for her family of 8 with plenty of alfresco spaces to enjoy the mild Georgia weather.
Where is home?
I was born and raised in the city of Atlanta. As our family grew I yearned for suburban life, however, I was unsure of the exact location. To accelerate the decision-making process, I moved our design studio to Fayetteville, Ga., to get a feel for the community. We loved it and my family and I later moved to the neighboring town of Peachtree City.
At what moment, or in what experience, did you decide to become an interior designer?
Growing up I developed an eye for interiors thanks to my grandmother Onetha. She wasn't a trained decorator but she was very creative. I assisted her with a lot of things in our own home. My grandfather Lawrence was an architect. They primed me for what I'm doing now.
Tell us a little bit about your design firm. How long have you been in business?
Erika Ward Interiors is a full-service design studio and showroom. There's a small, but mighty team of six. I started as a solopreneur after having my third child. At that time the business model was more of a consultancy service and no product offerings. Since 2008 we've experienced slow, steady growth. It's sustainable for someone growing a family at the same time.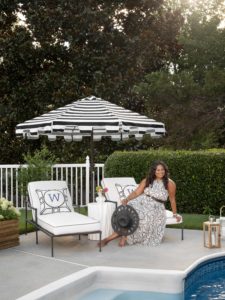 Tell us about your clients.
Our clients are busy professionals—from business owners to C-suite executives. We replace chaos with calm and provide concierge-level interior design and styling services for residences and small-scale commercial facilities.
Are most of your projects based in the South?
Yes, however, we've had clients move as far west as Utah. So we've done work there, too. We want lifelong relationships with our clients.
How long have you been a customer of Universal Furniture? How were you introduced to them?
We've been Universal Furniture customers for about 7 years now. A colleague introduced me to the brand and described it as "designer friendly." That's most definitely been my experience.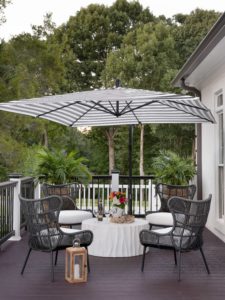 Do you have any quotes that guide your business or your life?
If you don't have time to do it right, when will you have time to do it over? – John Wooden
As a teenager my nightly responsibility was to clean the kitchen after dinner. I wanted nothing more than to get that task done so I could talk on the phone or watch TV. However, I vividly remember being awakened in the wee hours of the morning by my grandmother who'd returned to the kitchen to see I had done– in my words–a half-assed job. It didn't take too many times of busting suds in the middle of night to learn this important lesson.
What are the most important qualities to have in a vendor/business partner?
Responsiveness. Communication is everything.
What makes Universal different, or stand out among other furnishing partners?
I love the range of styles and product lines from upholstery to casegoods and outdoor furnishings. I can always find what I want in stock with Universal.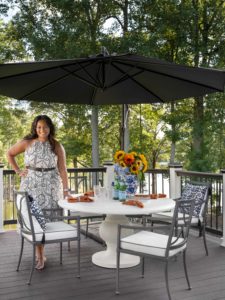 Do you have some favorite lines or collections from Universal? Why do they get your vote?
We enjoy seeing new introductions from the Modern collection. It gets my vote because of the creative use of materials found in every piece of furniture.
Do you visit the Universal Furniture showroom at High Point Market?
I visit the Universal Furniture each time I attend market. I'm always inspired by their well-designed vignettes and their team goes the extra mile to style each room setting to the nines. My team always jokes that their showroom is move-in ready. Short of a kitchen and bathroom— it's true!
What Makes Universal Furniture a good partner in design?
Universal Furniture makes it easy to give them our business. Their customer service is excellent and the products are well built and packaged properly for shipping.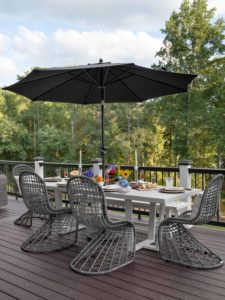 Tell us about your outdoor spaces and how you transformed them.
Our lakeside home is truly a haven for our family. We have three main outdoor areas: the deck, the patio and the pool area. With Universal's help, we transformed these spaces into inviting sanctuaries using the Coastal Living Outdoor Collection.
Open any of the doors to the rear of the house and walk out onto an open-air deck with multiple seating and dining options. We used the Montauk for one of the lounging areas and mixed the South Beach Dining Table with the Del Mar Dining Chairs. It has become the perfect spot for al fresco lunches and dinners while enjoying the beautiful lake breeze.
On the patio, we aimed to create an inviting space that calls us outdoors year-round. To achieve this we create two zones, one for dining and the other for lounging. The dining area features the South Beach Bar Table and coordinating bar chairs. The La Jolla Sofa and two well-appointed arm chairs comprise the lounging zone.
The highlight of our lakeside retreat is definitely the pool area. To complement the water's edge, we chose the Geneva End Tables with their wave profile and opted for the resort-style Seneca Chaise Loungers.
How long did the project take?
Two-and-a-half months!  We started in May 2023, and everything we wanted was in stock or easily obtained. We didn't do custom cushions because we needed a quick turnaround. At the half-way point of the project, around July Fourth, we had 40 people over for my daughter Brooke's birthday party. That speaks to the availability of the product. Universal has enough product you like and IT'S AVAILABLE!
We photographed the project in August. Since that time, I've had existing clients at my house, and have gotten new outdoor jobs as a result! I've already placed the order.  Having clients experience the furniture themselves was key. They can see I'm not recommending something I wouldn't use myself.
 You've worked with Universal Furniture for a long time. Over the years, what's your favorite project you've completed using its furnishings?
I'm proud of all of the projects we've completed using Universal Furniture! I'm certainly biased but my own home has to be my absolute favorite!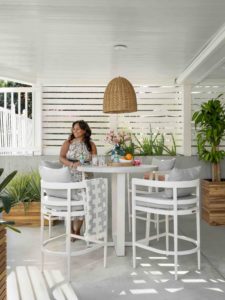 See more of Erika's thoughts on her blog here!
Photography by Robert Peterson